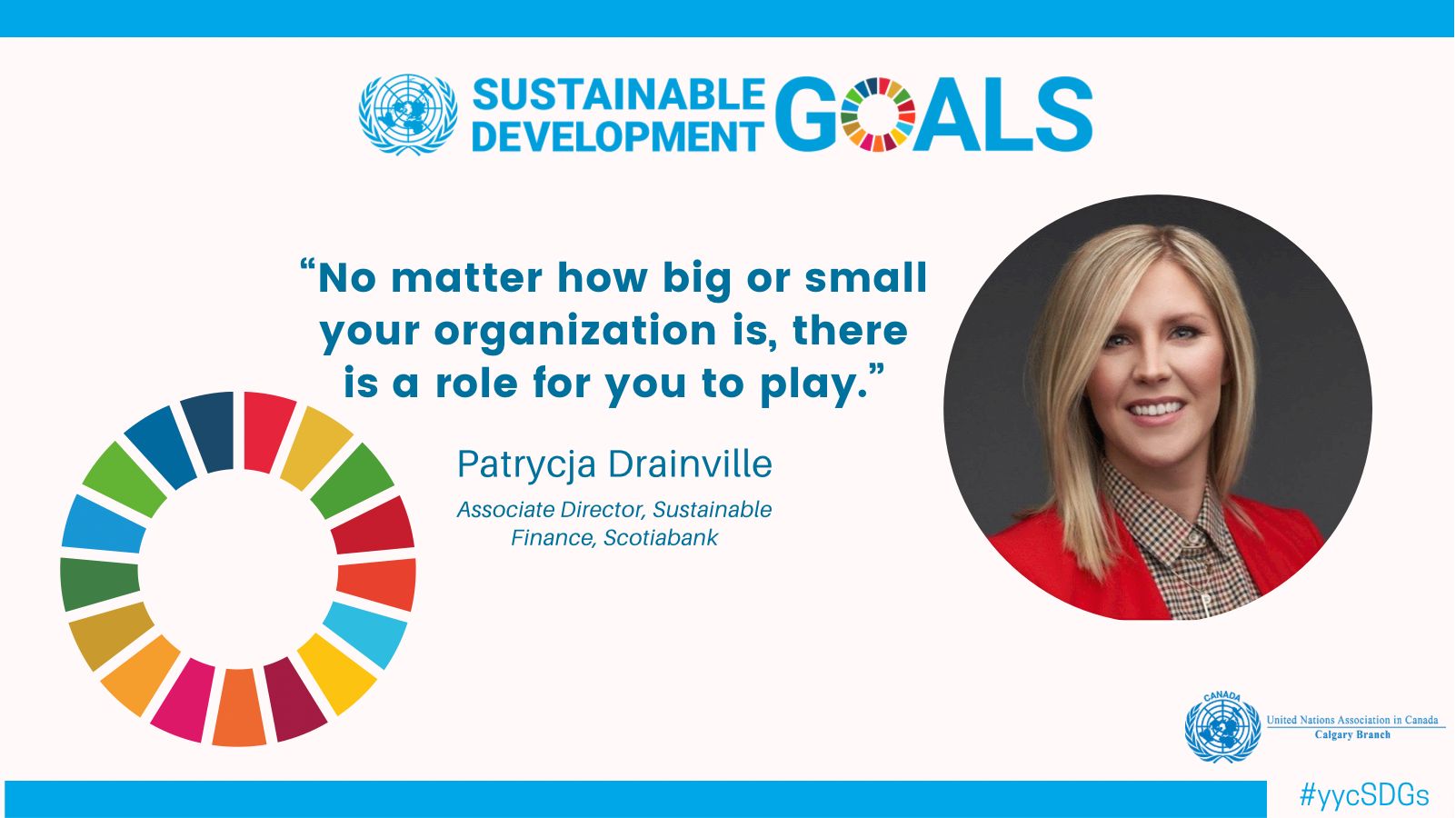 By: Angelina Patoka
In the Western world, particularly in highly developed cities, there is frequently a nonchalance to global governance. Even though Sustainable Cities and Communities is the eleventh Global Goal, many Calgarians (like many urban citizens in the West) seem to think of the United Nations Sustainable Development Goals (UNSDGs) as distant endeavours, which are geared towards aiding 'poorer' countries in the spirit of internationalism and sometimes paternalistic post-colonialism.
However, in truth the Global Goals relate to a multitude of diverse and interconnected issues that do affect cities like Calgary. 'The global is the local', and what is truly irrelevant is whether one's city is Conakry (Guinea) or Calgary.
Considering this, where does Calgary stand? How do the Global Goals relate to our municipality?
UNAC-Calgary talks to Patrycja Drainville, Calgarian, sustainability practitioner, Global Compact Network Canada board member to learn more.
"Global frameworks have always set the tone in the direction for action," says Patrycja. She frames interest from a holistic point of view, wherein Calgary and Canada take part in what she describes as "the closest thing the world has to a sustainability strategy." In short, the UNSDGs and the Global Compact represent unprecedented multi-stakeholder governance with a strong emphasis on accountability.
It may seem like this approach isn't anything new or innovative; after all philanthropy existed before the United Nations itself. However, the 2015 Goals and the Global Compact are in fact the first de jure instances where non-state actors are formally included in the sustainable governance of the world and the communities that surround them.
This is a dramatic shift from the realist politics of the twentieth century, when the majority of political energy concentrated all authority and accountability in the hands of sovereign states. Such pluralism entails greater social responsibility that can be addressed by a variety of groups with different resources and versatile problem-solving tools.
In other words, the SDGs are important for Canadian and Calgarian businesses because sustainability is much more than developing technologies for the sake of efficiency. It is about societal investments which aim at uplifting communities and maximizing the potential of as many people as possible.
The benefits of considering 'the local as the global' are further amplified by the direct impact of the UNSDGs and the Global Compact. These frameworks enable every country to assess and consistently measure its own progress in a timely fashion as we edge closer to the deadline of the 2030 Agenda.
International information exchange can also aid a country with inadequate resources recognize what areas ought to be prioritized or changed in its quest for sustainability. For instance, Patrycja notes that Canada prioritizes four areas: climate change, gender equality, economic equality and indigenous reconciliation.
The pan-Canadian framework includes federal commitments like data collection by Statistics Canada that contributes to an imperative domestic and international information pool, and a 2018 $49 million commitment over a thirteen-year period to enhance coordination across all levels of government and civil society.
Patrycja anticipates the increased cascading of these federal initiatives down to the provinces and municipalities, as well as increased action at every level within society. She notes that positive changes regarding sustainability and corporate accountability are already happening.
These changes are mobilizing the investor community, civil society, government and businesses in new and innovative ways. Investors have been particularly vital to capturing the attention of many different CEOs and CFOs, as a company's sustainability is fast becoming a key consideration in trade and regulation.
This is precisely where networks like the Global Compact can find opportunities to aid companies that are interested in sustainable strategy that would in turn help bolster an entire community.
Businesses hold just as much power to lead the way towards sustainable strategies, and this power is rooted in a company's willingness to accept accountability and transparency.
Even in Calgary, the practice of SDGs is not based on the oil and gas industry alone. Some of the most prominent local employers that align themselves with sustainability, and are indeed Participants in the Global Compact's network, include TELUS and Nutrien. As an example, the latter is a Canadian fertilizer company that is also invested in Goal 2: Zero Hunger. Considering the ongoing pandemic and recent economic downturns, it isn't surprising to see how this Goal may be of relevance to Canadian communities and the future preparedness measures of the Canadian government.
Patrycja recognizes that not all companies in Calgary have global ambitions. However, she points to the fact that with global tendencies shifting towards practices like carbon neutrality, even the smallest local businesses can find a way to integrate themselves into the larger global picture.
"No matter how big or small your organization is, there is a role for you to play," says Patrycja. Networks that are aligned with the UNSDGs provide advocacy arms that can propel one into shaping and advancing Canada's sustainability agenda, as it is a way of giving a voice to smaller businesses that feel muted amidst policy discourses.
One thing is clear: sustainability is the future, and an increasingly globalized Calgary is well on its way to be more sustainable than ever before.
—————————————
Patrycja Drainville, Associate Director, Sustainable Finance, Scotiabank
Patrycja is an award-winning, sustainability and ESG professional in the Canadian business community. She currently works with Scotiabank's Sustainable Finance team to provide ESG advice and solutions to corporate, financial, public sector, and institutional clients and deliver on the bank's commitment to mobilize $100 billion of sustainable financing by 2025. Patrycja has extensive experience advancing sustainability strategy with medium and large North American energy companies leading the way in ESG integration, corporate strategy and reporting opportunities for the sector. She also held the role of Chair, representing the oil and natural gas sector in the development of the Canadian Standards Association's Sustainable & Transition Principles and Taxonomy.
Patrycja holds a Bachelor of Arts degree in Economics from the University of Calgary and is currently working towards her MBA at Dalhousie University specializing in Sustainable Finance. She is board member of the Canadian network of the UN Global Compact, an active mentor and board member of the University of Calgary's sustainability student association Fuse Collective and was awarded the 2018 Young Women in Energy Award, recognizing women in the oil and gas industry for their leadership, innovation and community service.