Part of Blog Series: Global Issues, Local Solutions – Calgary Organizations Spotlight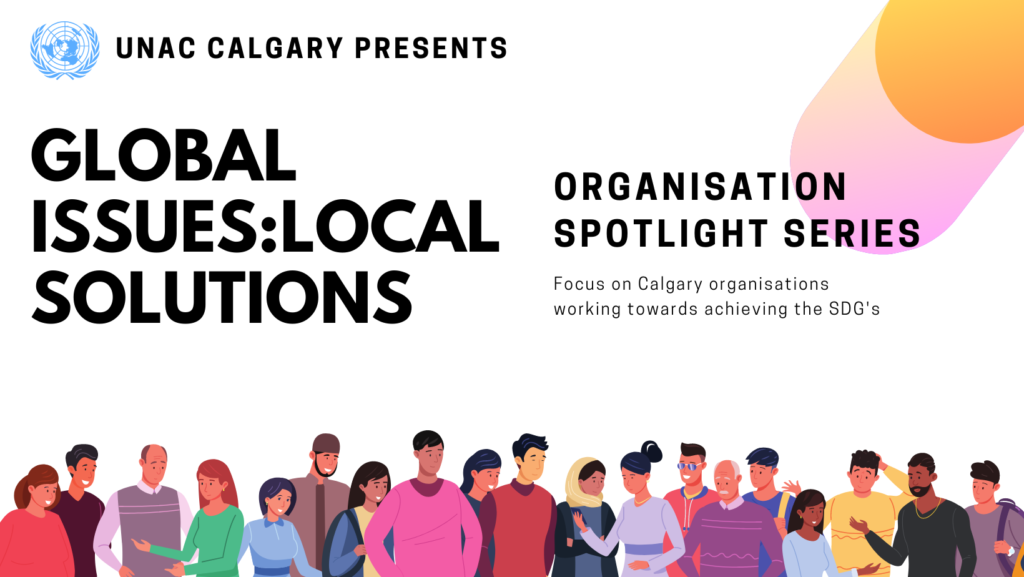 The Sustainable Development Goals  (SDGs) of the United Nations focuses on global issues but aims to solve them through the local solutions available in each and every community. With this perspective in mind, we at United Nations Associations Canada – Calgary bring to you a series of blogs that focuses on how local organizations in Calgary work to address global concerns.
---
By: Josephine Mary
In continuation to our International Women's Day blog on Digitall: Innovation and Technology for Gender Equality with a particular focus on Gender Equality, today we talk about how an organization in Calgary works to support women in technology. Chic Geek, launched by Kylie Woods, aims to build gender diversity in Technology. Its mission is to engage, retain and support intermediate women in tech.
Located in Calgary, it operates across Canada and has members from all over Canada and some parts of the USA. In our recent conversation with Aparna Jayender, Digital Experience Coordinator at Chic Geek we discussed the work her organization does, its programs, impact stories, and future plans. This blog is a compilation of the interview.
What is Chic Geek?
We began by uncovering the basics. In the words of Aparna, Chic Geek is not a staffing company but it is a networking community to understand the requirements of women in tech, helping them to navigate their careers and to retain them in tech.
What is the issue it addresses?
Women are underrepresented in Tech. Only 20% of technology roles are held by women. Among the 20%, 52% of mid-career women leave science, engineering, and technology. The reasons for doing so include a gap in career growth, lack of diversity and equality in the workplace, and lack of mentorship and growth opportunities for women. Chic Geek has been working to address this gap for women striving to grow in their technical career path.
How Does Chic Geek Address This Issue?
Chic Geek has been working with 14,000+ women through their core programs which primarily focus on mentorship and networking. One such initiative is Career Pathing. Career pathing is a program where Chic Geek connects its community members with two mentors who are established tech professionals to build networks, exchange problems and solutions, and access mentorship. Every mentee on average gets 30-45 minutes a month with each of her mentors to connect, network, and grow. This 60-90 minute time investment, helps women to gain better career visibility and creates an environment in retaining women in Tech.
Partnerships For The Win
Chic Geek works with multiple companies to encourage diverse hiring and helps in employer brand building and employee engagement through their corporate partnerships. They have partnered with organizations to help in hiring locally and build a gender-wise diverse profile to ensure bringing more local women talent to the field. Chic Geek feels that there is still a huge pay gap between men and women and hopes to bridge the gap by advocating and training women in partnership with other organizations for better roles. 
Diversity Motherboard – Equality for all
Diversity motherboard is one of the applaudable initiatives from Chic Geek! It is an inclusive space to learn about policies and tools for bringing diversity and equality to the tech workspace. It is open for all to learn about multiple case studies on the organization's Diversity, Equality, and Inclusion (DEI) policies and implementation. It silently yet strongly encourages organizations to commit to and work towards a diverse and inclusive workforce based on equality which instills a sense of belonging and community oneness.
The Impact So Far
"I think it's so valuable to have career pathing because you can find someone who's experienced similar situations and talk about your current situation with someone as a sounding board. Even if you don't know how to describe what you're experiencing, there are patterns that someone who's been in the field for longer can understand and recognize." Carrie Mah, Senior Product Designer and a Chic Geek mentee on career pathing.
With 300 mentors in its career pathing program benefitting 400 women, Chic Geek constantly expands its number of role models available in technology for women.
It has 30+ corporate partnerships with technology companies at the forefront of innovation and
Ran 15 events (virtually and in person) over 2021/2022 collaborating with over 20 partners to bring voice to women in technology to an audience of over 695 in total.
Chic Geek has secured $305k in funding in 2021 with a goal of $700k for 2023.
The Future Vision of Chic Geek
One of the most interesting parts of the interview with Chic Geek was knowing about their future plans.
Chic Geek acknowledges the rural tech talent in Alberta and in many other rural parts across the provinces, it works with. In the future, it is planning to penetrate rural regions of Canada to make tech careers accessible to women in these locations. To bring them the benefit of mentorship, increased exposure to career opportunities, and tools for growth.
How Can You Benefit From / Support Chic Geek?
There are numerous ways you could be a part of Chic Geek. From our conversation and understanding of the organization, I am listing down a few ways how one can be a part of it.
If you are a tech professional and want to support women through mentoring you can reach out to them for becoming a Career Guide (mentor). Do you know Chic Geek support and nurtures male allies? Yes! Despite gender, you can sign up to become a mentor.
If you are part of a corporate/organization you can partner with them to build a diverse workforce, help in providing training, and even contribute to their diversity motherboard by sharing how you strive to/ establish the DEI policy in your organization.
If you are an individual who needs support in establishing a career in tech, sign up to become a Path Finder (mentee).
Sponsor their programs/events that bring professionals from the tech space for networking and learning. Check out their recent event Connect Her – Women In Tech summit.
At its core, Chic Geek is a movement that forges ahead to expand the representation of women in tech. As Aparna puts it beautifully, women often feel alone in their careers and look for support. Chic Geek takes out this empty space and fills it beautifully by providing these women with the support and encouragement to navigate their careers in tech confidently.
Know more in-depth and their success stories here.
As we conclude the blog, from the communications team at United Nations Associations Canada – Calgary, we thank Aparna Jayender from Chic Geek for sharing her time and information for this interview. I hope that knowing, acknowledging, and supporting local organizations help in addressing global issues and working collectively towards them.