Nisa Homes…a place of healing, hope and dignity
Interview by: Anabia Adnan
The United Nations (UN) recognizes and observes International Day for the Elimination of Violence Against Women every year on November 25. This day is recognized to raise awareness and increase political will for preventing and ending all forms of violence against women and girls all around the world.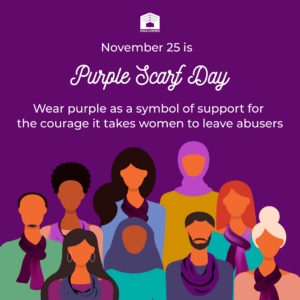 Wear a purple scarf on this day to recognize the courage it takes women to leave her abuser.
In Canada, approximately a woman is killed by her intimate partner every six days*, and 6,000 women and children in Canada sleep in shelters every night because they are unsafe in their homes.*
We talked to Leen Yaghi, Community Operations Manager for Nisa Homes, Calgary – a non-profit organization that provides transitional housing which meets the needs of immigrant, refugee Muslim women and their children, seeking protection from violence, trauma and homelessness.
Currently operating eight transitional homes in Canada, including Calgary and Edmonton, they
provide vulnerable women and children with temporary housing in a safe, healing and supportive environment that helps in rebuilding their self esteem and fostering skills for self-sustainability and independence.
1. What is the organization's core mission and what services do it provide?
Our main goal is to empower women, especially minority immigrant or refugee women who are at risk for homelessness and have been in vulnerable, traumatic situations.
We provide temporary accommodation for up to three months, case work management, income and employment support, help with legal matters, mental health support and counselling and childcare support.
The team at Nisa Homes connects the residents to appropriate resources to help them heal from their trauma and begin developing skills to survive and thrive independently.
We aim to remove any barriers that they might have in exploring their unique cultural identity and in rebuilding their lives with self confidence and dignity. We provide these women and their children with community resources needed to help them flourish physically, mentally and spiritually.
2. How do you provide cultural/religious support to cater to minority immigrant women?
Nisa Homes provides a safe and inclusive environment for women and children belonging to different cultural backgrounds and ethnicities. Our facilities and services are designed to provide cultural and religious sensitivity for minority, immigrant, mainly Muslim women.
Though we are a Muslim organization, our doors are open to all women and children regardless of ethnicity, religion or culture.
We provide services in a few different languages, as language is a huge barrier for new immigrants. Having someone communicate with them in their native language helps tremendously as they are able to connect, talk about their trauma and therefore begin their healing journey.
We also cater to cultural and religious sensitivity around food and try to plan and serve meals to the residents of the shelter accordingly.
Our team focuses on setting up the women and children who come to Nisa Homes with support groups and community services that are appropriate to their specific culture or religion.
We also help these women sort out any immigration related legal issues and connect them to available community resources.
3. In what ways do you feel that minority, immigrant women are particularly vulnerable to staying in abusive relationships and situations?
Immigrant and refugee women experience forms of abuse that are specific and unique to the new-comer experience.
Moving to a new country, learning a new language and adapting to a new culture can be a vulnerable and overwhelming time in their lives. Most of them do not speak or understand English or have any knowledge about women's rights in Canada and the laws and agencies that can protect them.
They are often manipulated by their partners and in-laws with threats about deportation, taking custody of the children and the police system of a new country.
Most of these women stay in abusive relationships as they are also not often financially independent, are scared of being homeless in a new country or having their children taken away from them.
4. In what ways do you feel that the pandemic has affected Nisa Homes and their residents?
The pandemic has definitely affected the day-to-day operations of our transitional homes. The women and children reaching out for our services during the pandemic are more battered and vulnerable than ever.
With job uncertainty and mental health issues on the rise due to the pandemic, the cases of domestic violence and abuse have risen greatly. We have also seen a significant increase in the number of women and children seeking refuge from abusive situations. Sadly because of lockdowns and restrictions due to the pandemic, we have had to restrict and cut down the number of people that can stay at our facilities.
Survivors of abuse and trauma find immense healing in connecting with fellow survivors during group activities. Group activities have had to be modified to include social distancing and other pandemic protocols which has also greatly affected the children at Nisa Homes. We are not able to organize as many in-person group activities which has certainly affected the residents' mental and emotional health.
5. Is there a specific case that stands out in your memory or a story that has impacted you
personally?
Few years ago, a woman with two children came to Nisa Homes after walking away from a very abusive and violent marriage. She was well educated and had a degree in medicine from her country of origin.
She stayed with us for three months during which she started the process of clearing the equivalency exams in Canada. She was able to get subsidized housing for herself and her children and clear all her equivalency exams.
We just heard from her that she is on her way to become a family physician in Canada. We couldn't be prouder of her strong will, determination and her amazing journey!
Stories of empowerment, resilience and hope are what make Nisa Homes such a meaningful, healing and inspiring space. They inspire other women in similar situations and encourage them to move forward in their journey of self-discovery.
6. How can Calgarians get involved with Nisa Homes?
Community support is crucial for non-profit organizations to thrive and serve their purpose.
Calgarians can help support Nisa Homes in many ways.
Donations to Nisa Homes can be made through our website. We also accept non-monetary donations such as items and gift cards and the website shares a wish list for the most needed items at the shelter.
We also accept donations of welcome gift baskets for women and children at the transitional homes which can include personal and hygiene products, snacks, books etc. Our residents love receiving cards and letters from community members with encouraging words and stories. The feeling that the community has their back makes them stronger and even more determined to stand up for their rights.
Nisa Homes also regularly organizes events that the community can support and participate in. These events are organized to recognize, support and honour the survivors of trauma and abuse and bring awareness to the issue of violence against women.
We have an upcoming event on November 27, "A Night in her Shoes: #Overnight Challenge"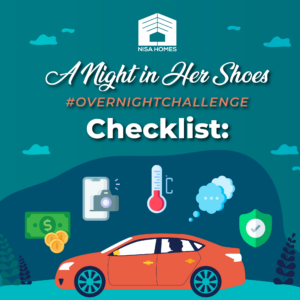 challenges Canadians to spend a night in their cars to recognise the struggle of women and children who are forced to sleep in a car when home is an unsafe place to be.
The most important way that the community can support organizations like Nisa Homes that work to eliminate violence against women, is by having discussions regarding gender inequality and basic human rights for women and girls within their own circles, be it at the dinner table, workplace or among their social networks.
—————————
References
1 Homicide in Canada, 2018 (statcan.gc.ca)
2 Gender Based Violence in Canada | Learn the Facts (canadianwomen.org)