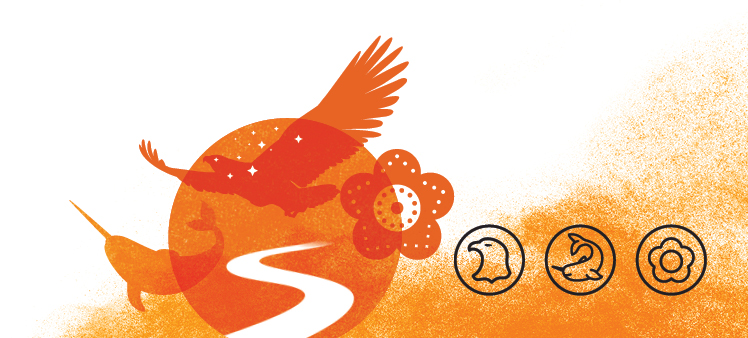 Image credit: www.rcaanc-cirnac.gc.ca
Recognizing National Day of Truth and Reconciliation 
By: Anabia Adnan
This year on September 30th, Canada will mark the first National Day of Truth and Reconciliation (NDTR), a day which has also been commemorated as Orange Shirt Day since 2013. It is a day for Canadians to formally reflect and acknowledge the devastating history and ongoing legacy of residential schools and to honour the survivors, their families and the Indigenous communities
The implementation of this new federal holiday is an important part of the reconciliation process that has been called for by Indigenous people and by the Truth and Reconciliation Commission of Canada. The province will lower flags on Alberta government buildings on Sept. 30 to honour lives lost at residential schools and the City of Calgary will be marking this day as a permanent statutory holiday for all city employees.
The ongoing recovery of hundreds of unmarked graves near former residential schools across Canada has once again highlighted the intergenerational trauma and devastation caused by colonization. It has also reinforced the fact that reconciliation is a rather complex process and can only be truly achieved when Canadians have a complete understanding of the past and present injustices against Indigenous peoples and collectively work to bring a change.
The resources highlighted below are a few of the many online tools available to help Canadians in this essential journey of reflection, understanding and reconciliation.
Truth and Reconciliation Commission Reports: Drawing on six years of testimony from witnesses, this report explains the history of Canada's residential school system and the legacy left behind, and offers calls to action for reconciliation.
Beyond 94: Truth and Reconciliation in Canada (CBC): This interactive website allows students to track outcomes on the TRC Calls to Action, learn more about the residential school(s) that operated near their communities (explore the interactive map) and discover concrete examples of how Indigenous and non-Indigenous Canadians can work together. The project is a living resource as new documentaries, residential school survivor stories, ideas and community-based action around reconciliation are added.
Understanding the National Day for Truth and Reconciliation: This website from the Government of Canada recognizes the tragic legacy of residential schools, the missing children, the families left behind and the survivors of these institutions. It has a list of valuable resources highlighting Indigenous history, their diverse and rich culture, the devastating legacy of residential schools and the journey of reconciliation.
Indian Residential Schools and Reconciliation Resources: The Indian Residential Schools and Reconciliation Teacher Resource Guides for grades 5, 10 and 11/12 were developed by the First Nations Education Steering Committee and the First Nations Schools Association. They provide resources by the Truth and Reconciliation Commission of Canada for education bodies to develop age-appropriate educational materials about Indian residential schools.
 Returning to Spirit: This non-profit Indigenous-led organization designs and delivers reconciliation workshops and seminars that focus on learning from the past, gaining the tools to make changes in the present and being empowered to create a better future. It is governed by a Board that has an equal number of Indigenous and non-Indigenous members and has been delivering experiential reconciliation workshops since 2001.
Indigenous Canada, University of Alberta: Indigenous Canada is a free online course from the Faculty of Native Studies at University of Alberta that explores Indigenous histories and contemporary issues in Canada. This course explores key issues facing Indigenous peoples today from a historical and critical perspective highlighting national and local Indigenous-settler relations.
Warrior life (Podcast): An Indigenous podcast about warrior life – a lifestyle that focuses on decolonizing Indigenous peoples' minds, bodies and spirits while at the same time revitalizing their cultures, traditions, laws and governing practices.
Empowering the Spirit: Empowering the Spirit is a collection of valuable resources curated to increase awareness and understanding of First Nations, Métis and Inuit histories, perspectives, traditions and history. The collection of tools, videos and websites found within Empowering the Spirit lend support to teachers and school leaders as they endeavor to weave Indigenous knowledge systems into their current practice.
The following is a list of some events planned specifically to honour the NDTR.
National Centre for Truth and Reconciliation, University of Manitoba: The National Centre for Truth and Reconciliation will be hosting a series of online events during their Truth and Reconciliation Week from September 27 to October 1. The programming will feature short videos created by Indigenous storytellers, followed by conversations with Elders, Knowledge Keepers, Survivors, and the children of Survivors of residential schools. All the events are accessible to the public and registration is free.
The Gord Downie & Chanie Wenjack Fund: The Gord Downie & Chanie Wenjack Fund aims to build cultural understanding and create a path toward reconciliation between Indigenous and non-Indigenous peoples. In honour of the NDTR,DWF President and CEO, Sarah Midanik, will be hosting a discussion to explore this new day of reflection, the significance of September 30, what this means for reconciliation in Canada, and how Canadians can participate meaningfully. Public access available on DWF social channels on September 30.
College of Dietitians of Alberta: On September 30, Canadian Nutrition Society is hosting a special webinar, Out of the Darkness and into the Light. This webinar will be an opportunity to acknowledge past harms and ongoing colonial practices that negatively impact the health and wellbeing of Indigenous Peoples, and to learn how we can move forward knowing that there are many shining examples of fully participatory nutrition research projects that are occurring from a place of respect, honour, trust and collaboration.
Concordia University of Edmonton (CUE): Concordia University of Edmonton is honouring the NDTR by hosting a mediated conversation about the history and legacy of Residential schools with survivors Harold Cook and Rocky Ward. The event will be held virtually and is an opportunity to discuss residential schools, the Truth and Reconciliation Commission of Canada, what is happening now, and what more needs to be done.
Southcentre Mall Calgary: Southcentre Mall in Calgary and Colouring It Forward Reconciliation Society have partnered to launch a month-long art exhibit featuring 17 Indigenous artists from across Western Canada. The artwork is on display in Southcentre's Art Corner space (near Hudson's Bay on the second level) until September 30th. They are also hosting a special event in honour of the NDTR on September 30.  The event will include various all-day family activities and crafts intended to promote understanding and awareness of Indigenous culture and experiences, while also educating the community about how they can play an active role in reconciliation