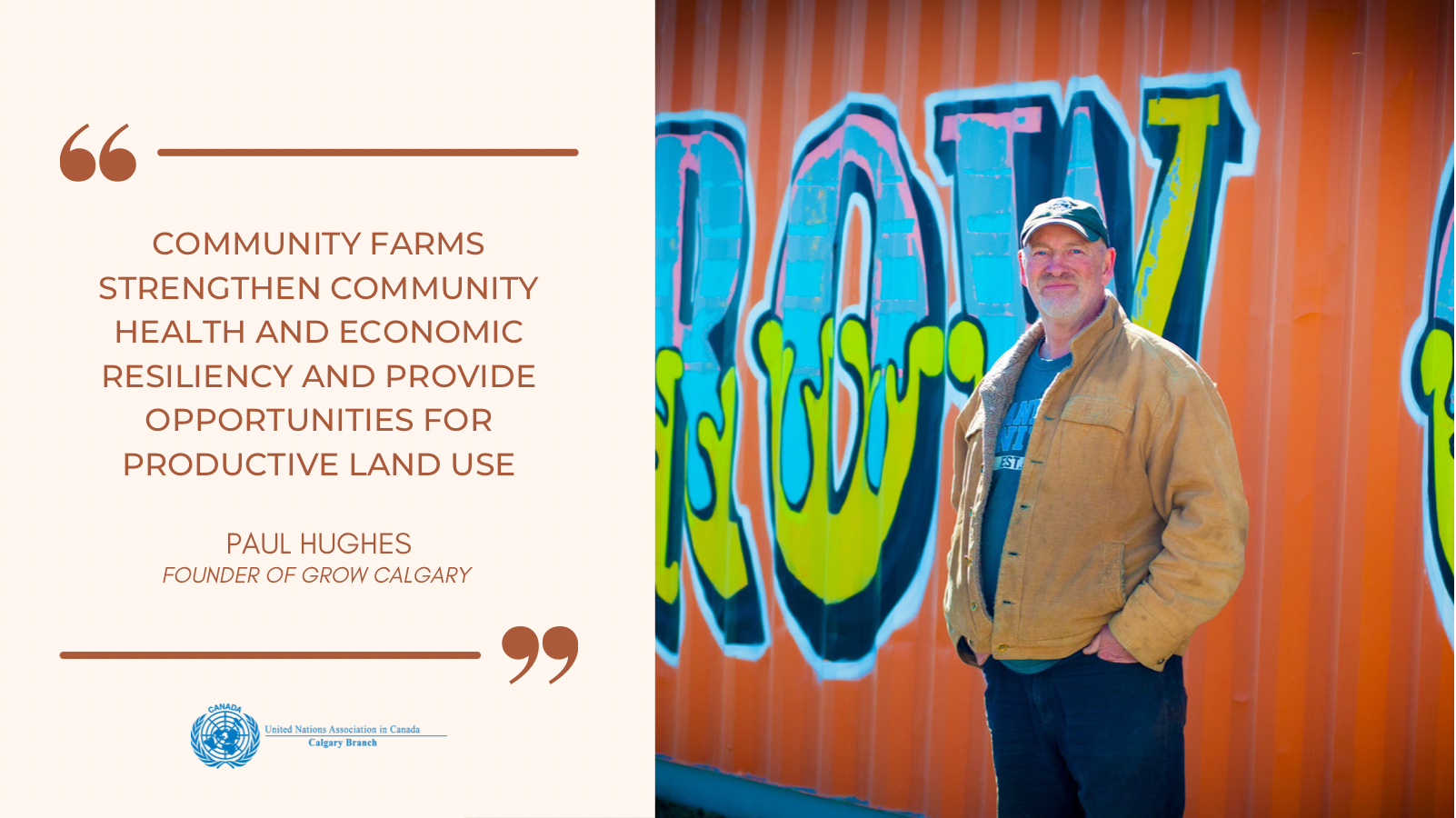 GROW FOOD. GROW PEOPLE. GROW CALGARY
By: Anabia Adnan
Food is a basic human need and a fundamental part of human existence. In developed countries such as Canada, many of us are privileged in not knowing hunger.  However, it may be surprising to learn that in 2017-18, 1 in 8 households in Canada was food insecure. That's 4.4 million Canadians, including more than 1.2 million children.[i] 1 in 5 Calgarians worry about having enough money for food.[ii] These numbers have significantly increased since COVID-19 started last year in March.
In this interview, we talk to food activist and long-time agricultural warrior Paul Hughes, who is the founder of Grow Calgary.
Grow Calgary is a non-profit organization that advocates for the basic rights to food and shelter. Run entirely by dedicated and passionate volunteers it is the largest urban community farm in Canada that harvests non-GMO, pesticide and contaminant free food and donates it all to various local food banks and compassionate food access agencies in Calgary.
What was the idea that led you to start Grow Calgary?
When I started working on the policy side of urban food production in 2008, there wasn't much happening in Calgary. What really bothered me was that our food system was addicted to canned and processed food, and there weren't many fresh food options available. Being involved with the policy aspect of food production was frustrating as there were ideas and potential solutions but not much was being implemented. I wanted to get dirt under my fingernails and do something tangible and that's when Grow Calgary was initiated in 2013.
On May 15, 2013, a group of dedicated volunteers harvested the first crop on Canada's largest urban agricultural farm on an 11-acre parcel of land just west of Canada Olympic Park. They are now located in Balzac, AB. 
As an organization, what would you consider your biggest impact to date?
There are two aspects to the impact that Grow Calgary has made over the years. First is the physical aspect of growing food to feed people. Secondly, there is the inspiring side of the impact that shows that feeding Calgarians locally sourced, healthy and fresh food can be done. Grow Calgary has fed vulnerable Calgarians a million meals, which is a huge accomplishment for a small farm. To date, we have had 20,000 children and 36,000 volunteers come out to the farm and enjoy a hands-on farming experience, inspiring them to make healthy food choices.
What are the future plans to expand Grow Calgary?
Our vision is to launch something like this across Canada, where every city should have numerous large community farms. Calgary alone, could accommodate well over 1,000 such farms; growing enough food to feed the majority of us. Such community farms strengthen community health and economic resiliency and provide opportunities for productive land use.
How has COVID-19 impacted food insecurity?
COVID-19 has significantly impacted food security primarily because of the devastation that the pandemic has brought on the economy and people's lives. The economical devastation caused by COVID-19 has led to job losses and business closures and sadly, many people who were previously doing well, have slipped into the sector of being vulnerable. We anticipate 2021 to be our busiest year. Every single food item that we grow this year will have a place to go.
Can you talk a bit about Grow Calgary's newer initiative for providing shelter to vulnerable Calgarians?
The initiative to develop microhomes is inspired by United Nations Article 25, which is the universal declaration of human rights and encompasses the right to food and shelter. We were growing food but realized that we needed to also incorporate the housing shelter aspect.
A microhome is a small dwelling typically between 100 – 500 square feet and reflects a minimalistic, sustainable, and affordable way of living for homeless and vulnerable Calgarians.
Unfortunately, microhomes do not have a place within the current provincial building code and local zoning bylaws. Grow Calgary aims to highlight the viability of a microhome as an affordable, sustainable, compassionate living space with hopes of re-evaluation to fit microhomes within the local and provincial regulatory framework. 
————————————–
More about Paul
Paul Hughes has been a mayoral candidate for Calgary in 2010 and 2017, a TEDx & World Food Justice Conference Presenter, an advocate for the marginalized, community organizer, founder; Canadian Liberated Urban Chicken Klub (CLUCK), the largest right to food organization in Canada and Farm Manager of Grow Calgary.[iii]
———————————————
Learn more:
UNSDG 2 – Zero Hunger
United Nations Article 25
Grow Calgary
————————-
Article references:
[i] Household Food Insecurity in Canada – PROOF (utoronto.ca)
[ii] Basic Needs – United Way Calgary and Area (calgaryunitedway.org)
[iii] http://www.thememoryproject.com/speaker-bios/177:paul-hughes/